For a printable registration form
that can be mailed in click here.
---
Friday March 16th 
St. John's Episcopal Church
74 Pleasant St. • Arlington, MA
Dance 8:00-11:00pm
Join us for the Weekend Opening
with Stan Strickland from 8:00-9:30
followed by DJ Rose from 9:45-11:00.
8-9:30pm Live Music & Movement Stan Strickland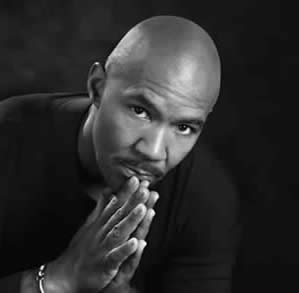 Singer, saxophonist, flutist, actor Stan Strickland has performed throughout the United States, Europe, Scandinavia, the Caribbean, New Zealand and the former Soviet Union. In addition to numerous radio and television appearances, Stan has performed in many clubs and concert halls, including Jordan and Symphony Halls in Boston, Carnegie Recital Hall and Town Hall in New York, and at the Kennedy Center in Washington, D.C. Stan has performed with jazz greats Yusef Lateef, Pharoah Sanders, Herbie Mann, Danilo Perez, Shirley Scott and Marlena Shaw.
---
Saturday March 17th
Happy St. Patrick's Day!
St. John's Episcopal Church
74 Pleasant St. • Arlington, MA
Registration and Opening Circle 10:45-11:00
---
Classes 11am-7:00pm
(for class descriptions and instructor bios scroll to the bottom of the page)
Class Period 1 11:00-12:00 
Parish Hall: Focusing and Movement —Marek 
Outdoors/Offsite: Walking into Arlington's Past—Beth Cohen (2 periods)
---
Class Period 2 12:10-1:10 
Parish Hall: A–Coeur–Dance—Cassie
Outdoors/Offsite: Walking into Arlington's Past—Beth Cohen (continues)
---
Class Period 3 1:20-2:20 
Parish Hall: Nia: World music—Alice Heller
Offsite (3 min walk): A WOMAN Speaks Truth to Power—Opeyemi Parham
---
Class Period 4 2:30-3:30 
Parish Hall: The 5 Rhythms & Funky Jazz — Margaux
Memorial Room: Gyrokinesis®—Kathleen Anderson
Offsite (3 min walk): Moving Towards "The Beloved Community"—Maya Apfelbaum
---
Class Period 5 3:40–4:40 
Parish Hall: Belly Dancing for Everyone—Johara
Memorial Room: Conscious Touch Lab — Brynn Bishop
---
Class Period 6 4:50-5:50
Parish Hall: Heart Fire —Tonya White
Memorial Room: Contemporaary Yoga Flow— Que
Class Period 7 6:00-7:00
Parish Hall: Contact Improv Dance Principles — Christopher Ellinger
Memorial Room:  Foot Reflexology — Bill Kennedy
---
DNE Dinner & Presentation (Including Set up) 7:00-8:30
---
Dance 8:45-11pm
8:45-9:45pm Nina
9:45-11pm DJ Alkemi
---
Saturday Class Descriptions
and Instructor Bios
Focusing and Movement

We will practice getting in touch with our felt sense and accessing the inherent wisdom of the body. Through practicing self-comapssion and deep listening, we can discover what exactly our body needs.
We will use movement and expression, practice shifting the energy in our body towards healing and release.

Marek has been working as a therapist and healer for over 11 years.
He is a certified Focusing trainer and has an extensive training in Internal Family Systems. He is passionate about discovering the inherit wisdom
of the body and about exploration of places in the body that hold distress, accessing them and allowing them to heal through deep listening,
self-love and creative expression.

Walking into
Arlington's Past

Learn about the rich culture and heritage of our town on a walking tour that includes visits to the Robbins Library and Town Hall, where you will learn about the Robbins Family and their contributions to Civic Arlington. We will finish up at the Cyrus Dallin Museum, where you will meet one of the premier sculptors of the late nineteenth century.


The Cyrus E. Dallin Art Museum at the
Jefferson Cutter House
1 Whittemore Park 781-641-0747
www.dallin.org
Hours: 12 noon to 4 pm, Tues.-Sun.

Built in 1892, Robbins Library houses the oldest continuously operating children's public library in the nation. The construction of the original library building was funded by Mrs. Maria C. Robbins, who dedicated it to her husband Eli. Arlington Town Hall area, which is home to a large garden and several monuments, Including the Robbins Memorial Garden.   

The Robbins Memorial Garden, like Arlington's Town Hall and Robbins Library, were built on land donated by the "Robbins Sisters," the three granddaughters of wealthy poultry merchant Nathan Robbins. The garden was designed in 1913, and re-designed in 1939 more or less to its present appearance.

Beth Cohen outside her secret life working for The Phone Company, is a long time member of the Arlington Historical Districts Commission and passionate about history and Arlington history in particular.

Life is a spiraling journey of both levity and depth.

This Ecstatic dance is fun and it asks for our presence inviting peace of mind as a practice. Stillness as sanctuary.

The dance floor is a space to strengthen our bodies and feel the momentum of our lives. When we drop into body, beat and breath we are gifted an opportunity to explore more of who we are through movement. The dance invites curiosity and welcomes all of our expression from contraction to expansion and all the territory in between.  Moving between the space of holding on and letting go we find the pause, our center in the storm.  How am I moving? How might I turn fear into excitement with a fresh rhythm right around the corner. Collectively we dance to shake out stagnancy, surfacing into our vitality, creativity and our humanity. The head and heart meet here to create a new dialogue with ourselves and others. This is about the dancer within us all regardless of age, gender or body shape. This is a moving meditation to honor your truth, trust and freedom.  I and WE create a safe and liberating space of how we feel rather than what it looks like.

Our space is created to allow the world of words to drop away and hold reverence for our bodies and spirits. This is a place to honor US while holding openness and respect for one another. Collectively we aim to be conscious of the impact we have while on this journey together.

Cassandra Brizzi sometimes known as Mama Cass has always been a big believer in a CooperativeBody. She  has been immersed in her embodiment practices since in 1992 with her introduction to Iyengar yoga and it's foundation of structural alignment. Eventually her studies led her to a 500 hour Hatha yoga certification in Boston, MA in 1998 when she began teaching. In the years between, she became certified as a massage therapist and implemented both skills as an intuitive body watcher/worker to assist others in strength, flexibility and physical alignment.

In 2005 a migration south to Asheville, NC brought her to her first expresive movement workshop and a whole new passage of body exploration began that changed her deeply from the inside out. Dance Meditation, Open Floor, BDanced and 5Rhythms revealed a passion, creativity and compassion untapped that overflowed into her own offerings of free form conscious movement in 2006. Cassandra began sharing her musical kaleidoscopes with the ecstatic dance community and later held weekly classes and workshops in various areas around the South East.

2014 introduced Bdanced and Golden Bridge, an embodied rites of passage and leadership program for young adults from around the globe. This opened a deeper dance with diversity and how she/we can use the body to bring healing and dance as a platform for peace. Cassie is currently completing her embodied leadership program with SoulMotion and has relocated back to New England where she is offering her dancing wisdom to different communities.

Nia blends the best of movement forms — consciously guiding in your body's way through dance, martial arts and healing arts including yoga

to provide a full body mind emotion and spiritual experience.(This class is an all level fun movement experience set to great music and can include children over 8 years old …)  African influenced movements and music to spice up the workshop

Alice Heller's focus for 2018 is on Nia, early movement education and African dance. She has been teaching and sharing her love of dance for over 20 years. Starting with the classic dance genres, she moved into African dance and then martial arts and Nia.

Besides African dance and drumming, Alice's studies moved her to work with children in preschools and private class settings. She has taught jazz, creative movement, hip hop, improvisational dance and gymnastics and more recently internal martial arts and Nia (she is a Brown Belt).

Nia classes integrate dance, martial arts and the healing arts including yoga. Alice brings all modalities to her class making them unique and accessible – internally as well as externally.

Using evocative spoken word, authentic movement, and modeling coping skills of NVC (non-violent communication), R.C. (re-evaluation counseling), EFT's (emotional freedom techniques) and breathwork, the presenters will speak from each of our personal experiences of race/class/religion/ and gender. We will then have a heartshare in circle together with workshop participants, and end with a grounding meditation.

Opeyemi Parham has been a member of the DNE community since before we had "membership". She is now calling herself a healing artist
and an artist, healing.

Discover this earthy and sensual dance from the Middle East.
Learn slow serpentine snake-arms, body-waves, Belly-rolls, and figure eights along with fast and fiery hip-locks and shimmies.
Wear comfortable clothing (Optional: bring any variety of scarf for the hips).

Johara has been a leading performer, instructor, choreographer, and percussionist since 1995. She is certified in Hatha & Vinyasa yoga and has trained in multiple dance styles. As the director of Snake Dance Theater Company she has performed her innovative blend of traditional (Egyptian,Turkish) and fusion belly dance in Turkey, Greece, Brazil and across the US. She's produced over 15 theatrical shows. Currently, Johara teaches at the New England Movement Arts and the Dance Complex where she has been a faculty member since 1993.

If you've taken Pilates and are looking for something new and a little different, Gyrokinesis(R) may be up your alley! Gyrokinesis(R) whole-body exercises are comprised of spiraling circular movements which flow together seamlessly in a rhythmic pattern. Repetitions are set to the rhythm of your breathing to help you lengthen your spine and focus your body's energy. Each movement connects with the next, allowing the joints to move freely through a natural range of motion. The carefully crafted sequences create balance and are executed gently without jarring or compressing the joints. This class has been adapted for the mat and chair from the Gyrotonic(R) machine method and is a perfect way to begin your day feeling limber and relaxed.

Please bring a yoga mat.

Kathleen R. Anderson has a master's in dance movement therapy from Antioch/New England Graduate School in Keene, NH, and a B.A. in dance from SUNY Brockort, NY. She is certified by the Kripalu Yoga Ashram in Lenox, MA, and has also trained in Iyengar Yoga with Patricia Waldren of Cambridge, MA. She has obtained all four levels of the "Yoga Fit" trainings, which also, encompass Prenatal and Senior Fitness, and has taken workshops in restorative yoga with Judith Lassiter. Additionally, Kathleen has studied mat and reformer, cadillac, chair, and barrel Pilates with both Physical Mind of NY and Stott of Toronto. She has accomplished up to Level Two in both Gyrokinesis(R) and Gyrotonic(R) disciplines. A Spiral based movement workout devised by ballet dancer Juliu Hovarth. He believes the muscle spindle is a Spiral and we should be moving with it, hence the name "gyro".

Moving Towards "The Beloved Community"

How can we move towards a less violent and more just and loving world? Fifty years since MLK was assassinated, the question of how to build "The Beloved Community" is as relevant as ever. We each have experiences, perspectives and tools that can support us in this direction and/or blocks that keep us from acting on these callings. We will explore these topics via an Opening Circle, short dialogues and developing simple embodied movements or gestures and share our findings in a collective closing.

Note: People with any level of dance or movement experience are all welcome and anyone who needs to dance from a stationary floor or chair position is welcome. Those who wish to may perform in a short dance piece based on this workshop in the evening.

 Interdisciplinary movement, image and spoken word artist, Maya Apfelbaum, is excited to be returning to Dance New England deepened and uplifted by recent personal, spiritual and social justice journeys. Maya has performed and taught all over New England and overseas in Sacred Theater and also Environmental festivals. Let's bring on the r/evolution through love & dance!

Tonya White, Expressive Arts Therapist, will lead us in meditation, movement, and drawing to explore what ignites a fire in our hearts. Dive in deep to find what you need in this moment and practice gentle sharing and witnessing as we connect to our own hearts and open them up to one another.

Bio: Tonya White is an Expressive Arts Therapist utilizing many forms of art to guide others to play, explore, and connect. Expressive Arts Therapy involves visual art, movement, acting, writing, music and more. Tonya has a private practice in Northampton, works with various universities, and is on the Board of Directors for DNE. Find her at tonyawhitetherapy.com

Contemporary Yoga Flow

Yoga meets Modern Dance expressing
beauty in a graceful sequential flow of poses transitioning through soft rolls on floor and gentile "standing" transitions
utilizing breath and music to "pace ".

Enrique (Henry) Oliveras, LMT, AKA The Artists Que Unlimited, is a member of PaSy Modern West African Dance Company and performs song & dance solo throughout Ma and NYC.  With a Buddhist/Taoist background, Que is versed in Asian & Western Medicine, holds 5 STAR Ratings with 2 mobile massage co's and the Hyatt hotel, holds a practice in Cambridge Ma that offers Therapy, dance, meditation also Chinese & Indian styles of yoga having earned a "Yoga Certification " through Daniel Orlansky.

Roth 5 Rhythms
and Funky Jazz

The 5 Rhythms is an ecstatic moving meditation practice. It is a practice that Gabrielle Roth brought forward in the 1960s and because of this practice, a movement revolution began. It's a practice of being fully in the body and yet be able to soar. It is a practice where we let go of the social chatter and the chatter of our mind and return to the heartbeat of our feet where knowledge of our ancient truths arise.
Like The 5 Rhythms, Authentic Relating are filled with offerings that welcome us to explore our ancient and present day truths in a fun, supportive and non judgmental environment.

Margaux Skalecki Medicine Dancer. BFA in Dance , MA in Performance and Healing Education is one of two teachers who lovingly brought The 5 Rhythms, ecstatic movement practice of Gabrielle Roth's to MA in the 1990s. Margaux's medicine bag is filled as a certified shamanic practitioner, as a 500 ERegistered child and adult yoga teacher, as a commissioned healer of the Spiritualist Churches, as a Reiki Master, medium, animal communicator, choreographer and song writer.
One of Margaux 's paths in this life time is to create spaces for children and adults to find their bliss while dancing on their edges, jumping into the unknown and jumping fully back into their bodies.
Www. Margauxskalecki.com

*Explore 5 Modalities of Touch.
*Open to receive pleasure more fully,
as your birthright.
*Discover the most pleasurable
ways of giving touch.

Brynn Bishop, Founder of Conscious Intimacy™, is an Advanced Certified Tantra Educator and Holistic Intimacy Coach. Her mission is to empower individuals to create authentic, loving, pleasurable relationships with themselves and others. Brynn specializes in helping people rewire their nervous systems towards greater connection, liberation & pleasure. She teaches nationally and works with individuals and couples in her private practice in Arlington, MA, and worldwide via phone and video conference. www.conscious-intimacy.com

This mini-workshop will explore how to enjoy increased connection, playfulness, and ease in dancing with others, drawing from principles of contact improvisation. All welcome of any ability–no previous experience with contact improv needed.

Christopher and Anne Ellinger founded, direct and perform with the ?25?-member improvisational Playback Theatre ensemble, True Story Theater. True Story has done hundreds of shows and workshops in the greater Boston area, ?giving voice to stories of many constituencies?? often addressing important social justice themes. Christopher is a teacher in Boston's Contact Improv community. Their book Getting Along: skills for life-long love, shares lessons from 3?6? years living and working together.

We'll create a space for giving, receiving and learning the techniques of foot massage to fellow dancers. Emphasis will be on healing through loving touch. Join us for the pleasure intimacy and joy of learning how to release tension and restore body balance. Beginners especially welcome.

Bill Kennedy has taught yoga, massage, reflexology, and meditation for many years. Starting off as one of two pioneering teachers in the early days of yoga at the Cambridge Center for Adult Education with Patricia Walden, he then directed and hosted his own national TV series called Success without Stress reaching tens of millions of people including a demonstration of acupuncture. He has held numerous retreats which all started with Partner Reflexology. His regular Reflexology classes in pregnancy yoga at MIT Medical Department and at CCAE were evaluated as the most popular of all his teaching. He has a PhD in Physics and is a former Research Fellow in Mind Body Medicine at Harvard Medical School. A Reike Master, and trained in Reconnection Healing Energy technique he believes the whole basis of healing is achieved through the loving acceptance of one Soul Friend for another.
Sunday March 18th

Explore classes in the greater Boston area 
Arlington:
Arlington Center, 369 Massachusetts Ave.
11:30-1:30pm Contact: Contact Improvisation Jam $9 drop-in
12:30-4:30pm Continuum: Moving Inquiry Megan Bathory-Peeler, $60/4hrs
382 Mass Ave, apt 803 (across from Arlington Center)
2:00pm Textured Percussion Jam, free
Cambridge:
Dance Complex, 536 Mass Ave. Central Square
1:30-3:30pm—Nectar (Dance) Adults $10-15, Age 6-12 $5-7, Under 6 free
Sunday Class Descriptions
and Instructor Bios
Contact Improv class & jam – all experience levels welcome.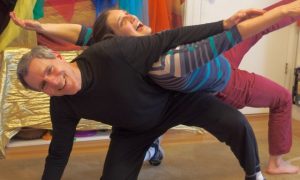 First hour will be a class/lab exploration (our focus will emerge depending on who is there.)
This will lead us into our jam time.
It would be great to know if you are planning to come… if you can, send me a quick email RSVP. Also, it's my birthday on Sunday 🙂 Dancing is one of the best ways I know how to celebrate, so I'd love to dance with you.
Hope to see you on the dance floor,
~Amber
WHEN:  Sunday, March 18th, 11:30–1:30PM
WHERE:  Arlington Center Location: It's at The Arlington Center yoga studios, 369 Mass. Ave., Arlington. (Easy free parking on Mass. Ave. and #77 bus from Harvard Sq. drops you off on the block.)
COST: $9 for space (or class card) and $5-$11 for the teacher
CONTINUUM: Moving Inquiry with Megan Bathory-Peeler
Sunday, March 18, 12:30-4:30pm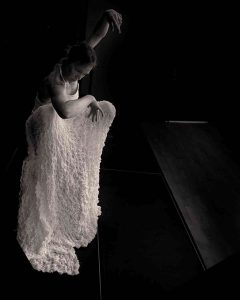 Awareness changes how we physically move. As we become more fluid and resilient so do the mental, emotional and spiritual movements of our lives. Emilie Conrad Da'Oud, Continuum founder
Continuum is a gemlike movement and sound-based practice of awareness, with different facets that allow the work to be approached from multiple angles. Unfolding as moving mindfulness, Continuum consistently brings one into the present moment through simple awareness of breath and wave motion. By being present to what is in the moment, one can make more informed choices for action that are more symbiotic, less effortful, and also maintain a focus on connection rather than on fear or isolation. This can bring about a significant shift in one's life, allowing a fuller sense of one's body, along with a greater trust in it. Continuum is relevant to anyone invested in healing and personal development, curious about the science of the body, engaged in the arts, or actively exploring the spiritual or the unknown. Continuum is both living practice and art form: it reflects and enfolds its continuous evolving nature. For more info & registration, please email Megan
Megan Bathory-Peeler is a passionate somanaut. For 25 years, Megan has been exploring the frontiers of embodiment and human relationships – insatiably curious about what it means to live fully in a human body and within the human experience. Based in Western Massachusetts, she guides her students and clients to make their own innovative discoveries, drawing on her skills as a Continuum teacher, somatic therapist/educator, performance artist, activist, and mother. She also teaches weekly in Greenfield, MA and will start teaching in Europe in 2018
Textured Percussion Jam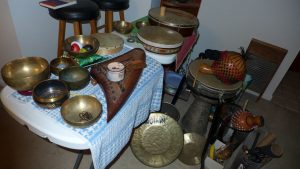 A textured  percussion jam is a much quieter version of a drum circle. I sometimes think of it as like a contact jam with percussion instruments. I was inspired to start having these by Brad Brockmann & Comma Williams Sound Healing circles at The Arlington Center.
A bunch of us sit around in a circle playing light percussion instruments (frame drums,  shakers, bells, singing bowls, and even pie plates!). The idea is to create and explore a meditative improvisation sound space, in which each player can hear the other players and respond to what s/he is hearing, No previous percussion experience is needed, just a willingness to listen (what musicians call 'big ears') and explore.
You are also welcome to just listen and watch. 
The rules, to the extent that there are rules.are;
1. You should be able to hear what everybody else is playing — if you can't, somebody is playing too loudly.
2 If in doubt, play less often.
3. If in doubt, play more quietly.
4. If in doubt, play less rhythmically. When a beat occurs, it should emerge from the ensemble and not be driven by any one player.
I sometimes think of it as the anti-matter version of a drum circle— another analogy – a textured percussion has the same relationship to a drum circle as a contact Jam as to dance freedom.
Nectar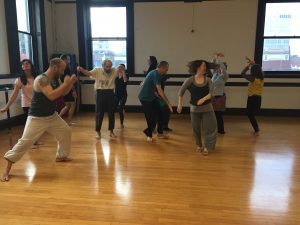 Nectar is a talk-free dance inspired by conscious and ecstatic dance. It is a space to enjoy and explore embodiment, physical expression, and the body's wisdom. After an unguided warm-up period, the Facilitator-DJ leads a brief opening circle on a theme or guided practice, followed by a playlist of music—beginning spacious and mellow, gaining intensity, and arriving back into stillness. Participants are welcome to move, dance, and be still as their bodies desire. Nectar closes with a sharing circle in which participants are welcome to speak about their experiences in the dance.
Nectar is offered primarily for adults. Children are welcome with adult accompaniment provided they can follow the talk-free and intentional structure and be mindful of their impact on others in the space. Kids under 6 can come for free, and ages 6-12 for half price ($5-7). $10-15 for adults. Please pay upon entry.
Facilitator/Dj Tonya White: Inspired by her expressive art therapy training and motivated to create space for us to return to our bodies in community, Tonya invites imagination in as we ground and then flow into a musical drama with so many possible dance stories.

To register online click here.