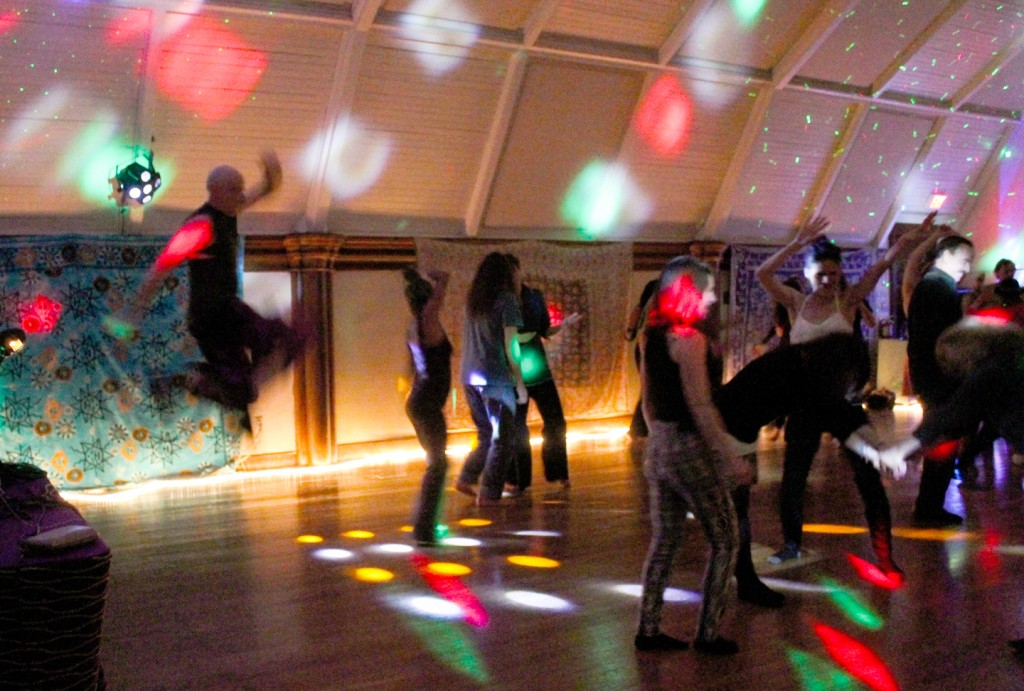 Come as you are,
wherever you are.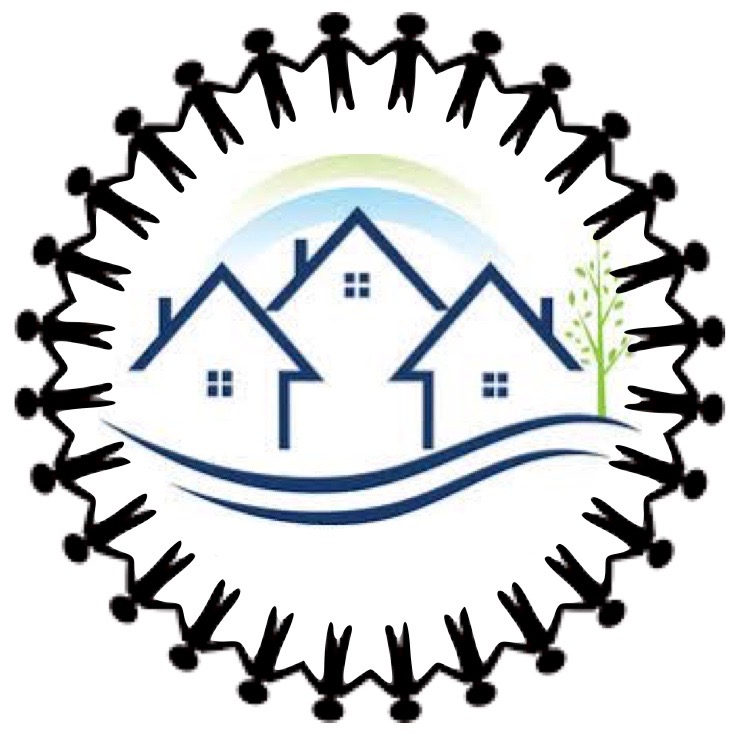 Dance Friday and Dance Freedom
are joining the virtual dance world.
We look forward to seeing your faces and dancing together and connecting online. Since we can't play together in person,
let's play together remotely!
All are welcome!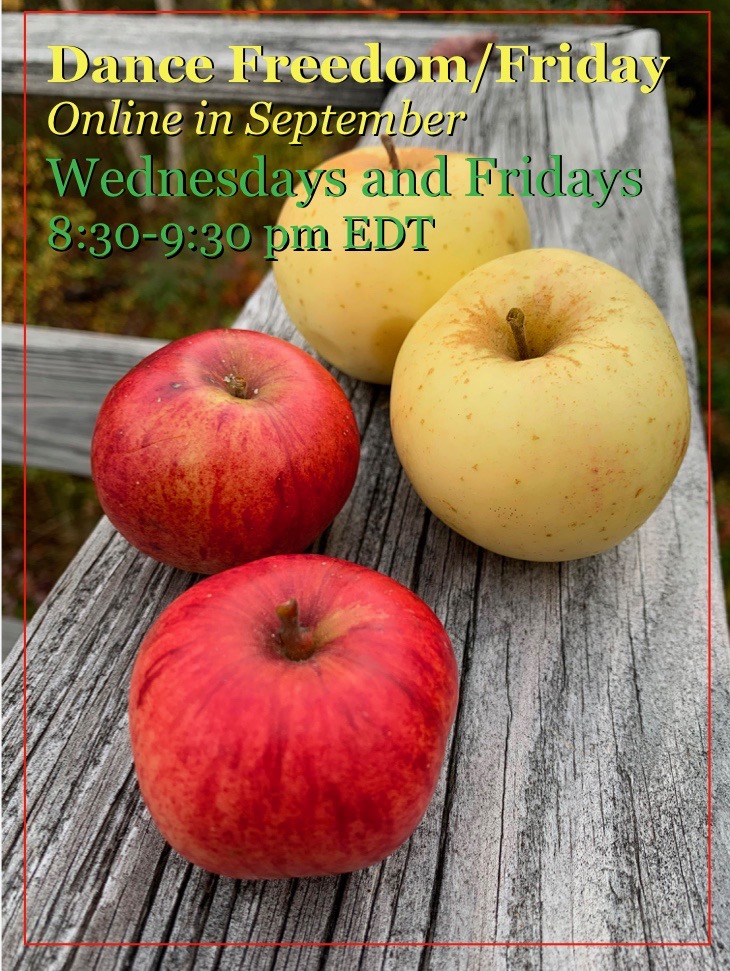 The dance sets will be around 55 minutes of carefully selected music from our devoted crew of Dj's, put together from all eras and styles each set will contain Something for Everyone.
We have a short circle at the end where you will be invited to share briefly a reflection about your experience at this time, a poem, quote, song, or something you are thankful for. No one has to share (you can always pass).
How to connect to Zoom:
If you have a computer device of any kind, including a phone, you can join us. To prepare to join, download the free software for Zoom at zoom.com.
To see everyone on the screen together, please give your device and Zoom access to your camera and microphone.
Your microphone will be muted during the dance.
We would love to have as many screens lit up
with moving dancers as possible!
(Note: you are absolutely welcome to turn OFF
your camera and still join us.)
If you aren't connecting to Zoom though your computer or iPhone,
email for phone number for connection.

Questions? Write info@dancefreedom.com
https://dancefriday.org/tickets-donations/
Join us for the
2020 Summer Season
We will return to our new space in Central Square when we can once again dance together in person. Until then come as you are, wherever you are to our virtual dances.
Dance Friday is a place to dance barefoot, however, you like,
with or without a partner, to all kinds of music, in a smoke- and alcohol-free space.
We are a volunteer-run, consensus-governed, non-profit dance organization.
We will be dancing at our new home at St. Mary's 8 Inman St. Central Square, Cambridge, MA as soon as it is once again safe to do so.
Dance Freedom/Dance Friday
Community Online Dances for September
Upcoming Zoom Dances in September
Wednesday, Sept. 23rd: 8:30-9:30 pm (EDT) Dance DJ Rose Ward
Friday, Sept. 25th: 8:30-9:30 pm (EDT) Dance Guest DJ Nancy Farber
10th Anniversary Performance of: Holy Ground/Rise Up, Whydah, September Tango
Wednesday, Sept. 30th: 8:30-9:30 pm (EDT) Dance Guest DJ Nina Coil
Friday, Oct. 2nd: 8:30-9:30 pm (EDT) Dance DJ Rose Ward

Community Guidelines
Come and go any time starting at 8:15 pm until our closing circle at 9:45 pm.
Feel free to: dance, prep food, garden, or any other activity that is appropriate for all ages,
Please keep yourself muted except while in a verbal sharing portion
Keep your sharing—visual & auditory—family–friendly
Practice self–responsibility.
If you are uncomfortable being Pinned (a Zoom function to make another individual's image your main focus), prefix "no pin" or "NP" to your name, or turn off your video.
Practice obtaining consent. If you'd like to Pin someone and they don't have "YP" (Yes Pin) in their name, ask first (in the chat).
Refrain from taking video or photos
Ask for support when you need it.
Dance Schedule
8:15 pm Virtual doors open:
Arrive, settle in, listen to warm-up song.
Test your audio
Check your space what is in it? what size is your dance space? can you stretch out on the floor, what furniture can bear your weight during the dance.
Receive support on Zoom functions [such as Rename, View: Gallery or Grid or Speaker; Unmute/Mute; Pin Video]
Share a thought or feeling to help you be present
Rename yourself on Zoom put the city you are in and y/p or n/p next to your name so that folks know it is okay to pin you or not.
8:30pm We Dance.
9:30pm Poetry music or visual art presentation.
9:45ish pm Closing circle with optional sharing.
Some thoughts on participation:
There is no choreography or steps, no "right" or "wrong", so you virtually can't get it wrong—as long as it's family–friendly.
Some things to try:
Be awkward
Be silly
Be solo
Interact
Find creative ways to interact with the Zoom medium
Graze (brief interactions with others)
Mirror (a funhouse mirror!)
Lead; Follow
Make eye contact; Avoid eye contact
Move around your space
Stay in one spot
Sit in chairs
•Use your environment as dance partners: the floor, your walls, chairs, couches, walkers, tables, beds, foam rollers, stability balls, trees, canes.
Intentions for Dance Freedom/Friday
To stay connected with each other in this time of separation & distance
To reconnect with ourselves, our bodies, our movements
To reconnect with our living spaces
To get our blood flowing, our heart rate up
To share art, music, and other bits that lifted our spirits during the week.

Other Ways to Connect
https://www.facebook.com/groups/dance freedom
info@dancefreedom.com