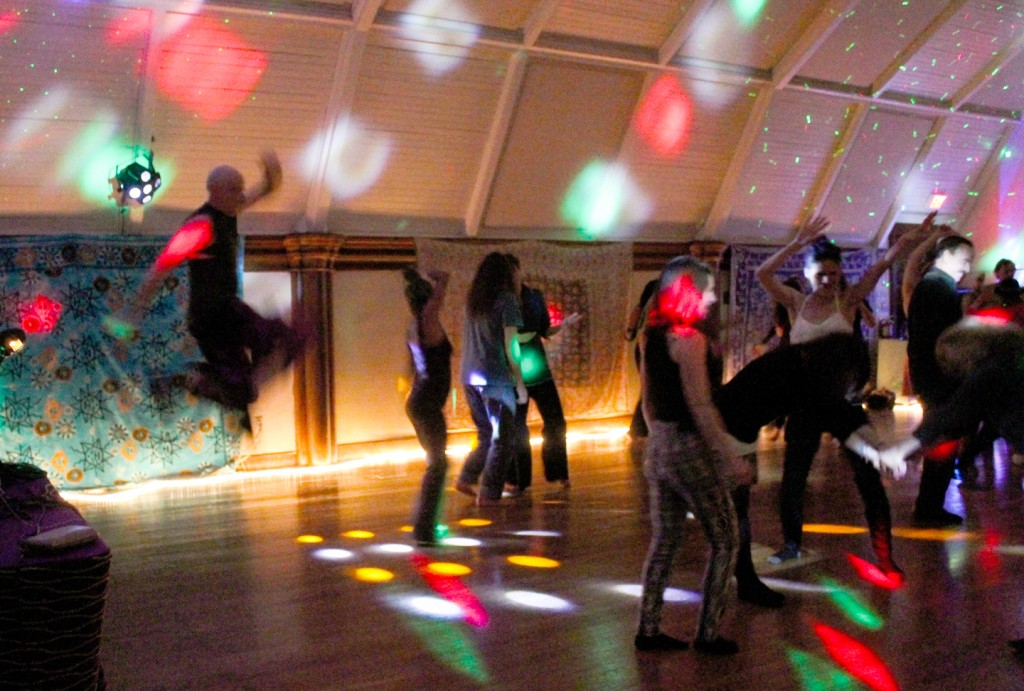 Join us for the
2019 Summer/Fall Season
in our new space in Central Square
Dance Friday is a place to dance barefoot, however you like,
with or without a partner, to all kinds of music, in a smoke- and alcohol-free space.
We are a volunteer-run, consensus-governed, non-profit dance organization.
We will be dancing at our new home at St. Mary's 8 Inman St. Central Square Cambridge, MA.
September 13th: Dance Friday hosts Body Oracle with Cassandra Brizzi
September 27th: Dance Friday Community Dance Class
8:00-8:30 Erica is available for questions during setup
8:30-9:15 Contact Improv Tango — Erica Roper
9:15-10:30 DJ Robin and Next Generation DJs
October 4th: Community Dance Class
Yoga Class followed by dj'd dance music with Rose Ward
October 25th: Dance Friday Hosts Biodanza with Carolina Churba

Septemper 13

th

: 
8:30-10:30pm Body Oracle with Cassandra Brizzi  
Suggested Donation $15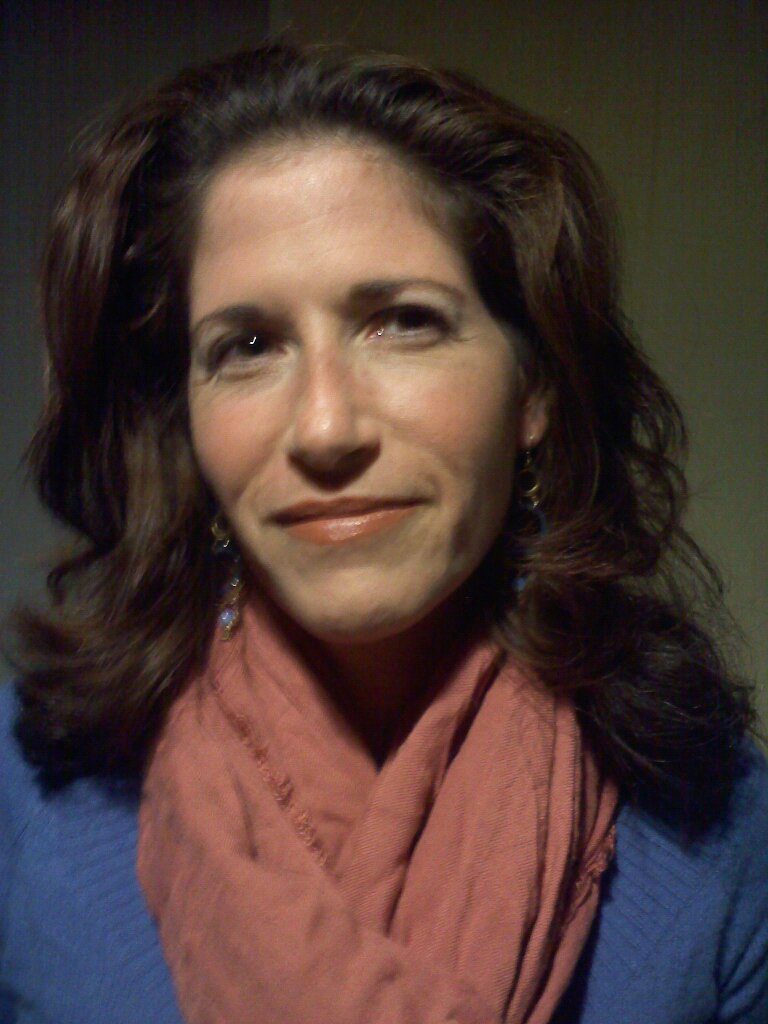 Body Oracle: The dance floor is a space to strengthen our bodies and feel the momentum of our lives. When we drop into body, beat and breath we are gifted an opportunity to explore more of who we are through movement. The dance invites curiosity and welcomes all of our expression from contraction to expansion and all the territory in between. Moving between the space of holding on and letting go we find the pause, our center in the storm. How am I moving? How might I turn fear into excitement with a fresh rhythm right around the corner. Collectively we dance to shake out stagnancy, surfacing into our vitality, creativity and our humanity. The head and heart meet here to create a new dialogue with ourselves and others. This is about the dancer within us all regardless of age, gender or body shape. This is a moving meditation to honor your truth, trust and freedom. I and WE create a safe and liberating space of how we feel rather than what it looks like.Our space is created to allow the world of words to drop away and hold reverence for our bodies and spirits. This is a place to honor US while holding openness and respect for one another. Collectively we aim to be conscious of the impact we have while on this journey together. Please leave cell phones and conversations off the dance floor and due to chemical sensitivities this is a perfume free zone.
Bio: For over two decades Cassandra has been deeply invested in exploring the body's wisdom through yoga, massage and dance.She takes the somatic approach of exploring life from the inside out, cultivating tools of intuition as a body worker, watcher and witness. It's from inside where she is guided to assist others in finding greater range of movement and expression. Regardless of age or body type, Cassandra cultivates experiences that move with the authenticity and artistry of the moment and allows space for others to do the same.Cassandra discovered the dance in 2005 in Asheville, NC that significantly changed her life and began offering classes and workshops in many diverse dance communities. She currently lives in western Mass and is stretching herself into these new areas with fresh anticipation and joy.
September 27th

:
Dance Friday Community Dance Class
8:00-8:30 Erica is available for questions during setup
8:30-9:15 Contact Improv Tango — Erica Roper
9:15-10:30 DJ Robin and Next GenerationDJs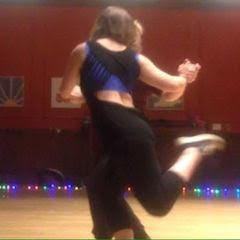 The Argentine Tango and Contact Improvisation share the same underlying physical vocabulary of connection and improvisational movement. This class with explore movement and dance freely with an inspiration in Contact and Tango, to go beyond the limits of any given dance and enjoy the playful meeting with oneself, dance, partners, and music.
Argentine Tango is a living art form. It is an open or close embrace, improvisational dance that is both a throw back to traditional social graces and extremely socially progressive. We will explore the basic principles of Tango in walking together with the music in a partnered embrace. We will discuss the fundamentals of improvisation and the relationship between improvisation, basic tango vocabulary, and so-called figures.
We will explore this in relationships to the Contact Improvisation principles of sliding and rolling at a fixed point of contact; pushing and yielding as, slightly giving weight at the point of contact, and softly sustaining a touch. We will explore roles of lead and follow in Tango and as they relate to the mutual decision-making of Contact Improvisation with the goal of creating a dynamic conversation in our bodies and movement. We will explore elements of the embrace, connectivity, musicality, and communication within our own bodies and in relation to a partner.
This Class is valuable for dancers of all levels no partner is necessary and there is no need to have experience in Contact or Tango to participate.
PLEASE: bring socks or soft soled dance shoes and comfortable clothes to move in! Erica will be available for questions at 8pm during equipment set up time. Class is short so show up early for orientation and warm up. Stay on and practice what you learned during our community dance a blend of the old and new generations of dancer/dj's.
October 4th:


Community Yoga then Dj'd Music by Rose
Save the date
October 25th: Dance Friday Hosts Biodanza with Carolina Churba
Carolina Churba-Doyle is among the leading world figures in Biodanza and has over thirty years' experience in Biodanza. Her training and students are recognised as being among the best currently emerging from Biodanza training worldwide. She has trained over 80 facilitators in South Africa.
In 1990, she brought Biodanza from its origins in South America to London, where the establishment of the programme was successfully completed in 1995. From England, Biodanza has since moved into numerous countries throughout Europe and into Japan.
In 1996, Carolina brought Biodanza to South Africa and in 2005, she was recognised by Rolando Toro Araneda and the world governing body of Biodanza, the International Biocentric Foundation, as the official licence holder and custodian of Biodanza in Southern Africa.
"I started Biodanza at 18 in Argentina. Biodanza has helped me live my life in balance. Every class I have a chance to process my week. And I find my inner source of love that allows life to flow from week to week in a positive way. That is why I have continued with it for over thirty years!"
" I see people heal their lives through Biodanza from their very core. This gives me purpose in my facilitation."
Carolina currently works as an International Consultant giving support to Facilitators all over the world.