8:00-9:30 Alice Heller leads Nia with a World Music Twist, 9:40-Midnight Rose/David Hero
When:
2015/02/27 @ 8:00 PM – 11:59 PM
2015-02-27T20:00:00-05:00
2015-02-27T23:59:00-05:00
Come celebrate being in your body with a delicious blend of earthy African dance moves and heavenly Nia Technique. This all level workshop includes dance, martial arts and healing arts like yoga set to great music that will inspire your somatic experience.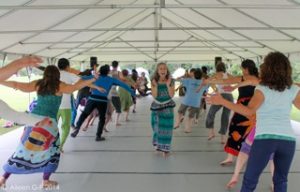 Alice Heller blends her love of rhythm, movement and spirit to bring you a multidimensionally accessible movement class. No experience required as her classes are based on the body's way. She is a Certified Blue Belt Nia instructor and an African dance teacher. www.alicehellerdance.com
After class, dance to dj'd music by David Hero and Rose.