8:00-9:30 ChakraDance™ with Christabeth Ingold, 9:40-Midnight MystaReed
When:
2014/12/12 @ 8:00 PM – 11:59 PM
2014-12-12T20:00:00-05:00
2014-12-12T23:59:00-05:00
Where:
First Parish in Cambridge Harvard Square
3 Church Street
Cambridge, MA 02138
USA

Chakradance™ is a sweet dance with the soul. It's an inward journey where you meet your self exactly where you are, and illuminate your 7 major chakras (energy centers). Each chakra is key holder to different parts of your self and your life, and may be holding old patterns that no lo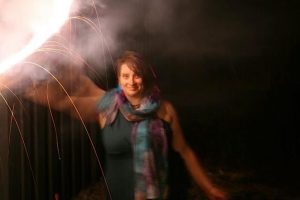 nger serve you. In Chakradance™, you will balance, unblock, and free up your energy flow as you simply listen to the rhythm of your soul. When energy is flowing through you, you feel better and more clear emotionally, mentally, physically, and spiritually. You will also be guided through meditation and creating a mandala. Come enter into this beautiful waking dream, and possibly even meet your inner warrior!
 Class $15 (participants welcome to stay for Dance Friday for free)
 (Chakradance™ with Christabeth Ingold is part of our Fall FunRaising Drive.)
MystaReed 
In 2010 MystaReed (Reed I'o) began DJing again for Ecstatic Dances, from Hawaii and Santa Cruz to Toronto. MystaReed strives to take musical journeys bringing the dancers around the world and providing space to release the ego, creating a space to invoke a clear and refreshed spirit to inspire all aspects of life. Dance til you can't, then Dance more! MystaReed is available for conscious dance gatherings.
Reed also creates original music mixed from live samples of saxophone and other instruments. Check it out here! http://www.mixcloud.com/mystareed/