Support Local Teachers Day—2019 Boston Spring Weekend Continues
When:
2019-03-31T00:00:00-04:00
2019-04-01T00:00:00-04:00
Sunday, March 31st
Explore classes in the greater Boston area 
Arlington: Arlington Center, 369 Massachusetts Ave.
10:30-12:30pm Contact: Contact Improvisation Jam $9 drop-in
Cambridge: The Dance Complex, 536 Massachusetts Ave., CAMBRIDGE, MA
1:30-3:30pm—Nectar (Dance) Adults $10-15, Age 6-12 $5-7, Under 6 free
Cambridge: Green Street Studios 185 Green St, 02139
12:00-5:30pm—"Allowing the Movement to Find You" Contact Improv Workshop with Avital Bar Zuri, $65-75 Sliding Scale

---
Sunday Class
Descriptions
and Instructor Bios
Contact Improv class & jam – all experience levels welcome.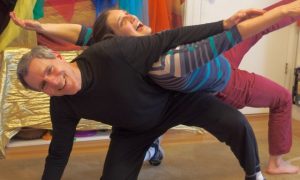 The first hour will be a class/lab exploration (our focus will emerge depending on who is there.)
This will lead us into our jam time.
It would be great to know if you are planning to come… if you can, send me a quick email RSVP. Also, it's my birthday on Sunday 🙂 Dancing is one of the best ways I know how to celebrate, so I'd love to dance with you.
Hope to see you on the dance floor,
~Amber
WHEN:  Sunday, March 31st, 10:30-12:30 pm
WHERE:  Arlington Center Location: It's at The Arlington Center yoga studios, 369 Mass. Ave., Arlington. (Easy free parking on Mass. Ave. and #77 bus from Harvard Sq. drops you off on the block.)
COST: $9 for space (or class card) and $5-$11 for the teacher
---
Nectar: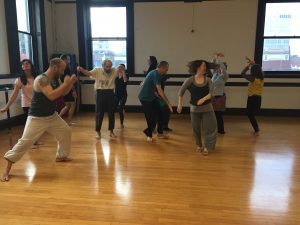 Nectar is a talk-free dance inspired by conscious and ecstatic dance. It is a space to enjoy and explore embodiment, physical expression, and the body's wisdom. After an unguided warm-up period, the Facilitator-DJ leads a brief opening circle on a theme or guided practice, followed by a playlist of music—beginning spacious and mellow, gaining intensity, and arriving back into stillness. Participants are welcome to move, dance, and be still as their bodies desire. Nectar closes with a sharing circle in which participants are welcome to speak about their experiences in the dance. Nectar is offered primarily for adults. Children are welcome with adult accompaniment provided they can follow the talk-free and intentional structure and be mindful of their impact on others in the space. Kids under 6 can come for free, and ages 6-12 for half price ($5-7). $10-15 for adults. Please pay upon entry.
---
"Allowing the Movement to Find You" Contact Improv Workshop with Avital Bar Zuri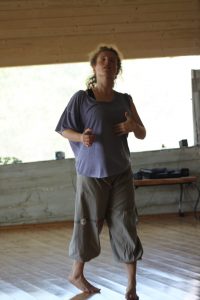 Come and join me in a longer exploration of moving from the ideas of core support, breath support and effortless movement. These deep ideas that come from the somatic system of Laban and Bartenieff fundamentals and release technique will allow the movement to find us and to reveal itself in the contact improv form. Rolling, sliding, shifting weights and flying may happen!
This will be a 5.5 hours long workshop. Having the time to let things reveal is so so beautiful and joyful.
I really invite you to give yourself this present of time.
(This workshop might have a 2nd part to it at the end of April if there will be an interest :))
avitalganbar@gmail.com 781-996-9399
https://www.facebook.com/events/542197899600376/
$65-75 Sliding Scale
12 PM – 5:30 PM
Green Street Studios 185 Green St, Cambridge, Massachusetts 02139